Spring Aerial Imagery Program for Minnesota (SAIP): 2009-2014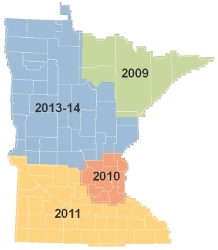 The goal of the Spring Aerial Imagery Program was to acquire 4-band leaf-off imagery statewide.
The State of Minnesota provided funding through the Environment and Natural Resources Trust Fund for a phased update of the National Wetland Inventory. Under the direction of the DNR, this effort requires up-to-date, spring leaf-off, natural color and infrared aerial photography. The State collaborated with partners to leverage this funding in order to acquire higher-resolution imagery in many areas.

---

Return to MnGeo's first-stop Aerial Photography page