Telecommunication Infrastructure Information for Minnesota
Use this site to find GIS data, maps and statistics that show information about Minnesota's telecommunications infrastructure.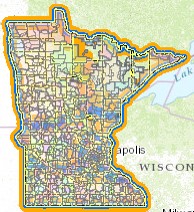 ---
Service areas and area codes
---
Broadband / Fiber optic
Most fiber optic information is proprietary and is not publicly available.
---
Transmission towers and service areas
See the Federal Communications Commission's Data webpage for FCC licensing data, regulated towers and market area boundaries, including datasets for cellphone towers and service areas, land mobile station locations, AM, FM, microwave, pager and TV communication towers, and antenna structure registrations.

---
Other telecom map and data resources
---
Return to MnGeo's main Utilities and Telecommunication first-stop information page